GTT Tournament – Platinum Series, November 2020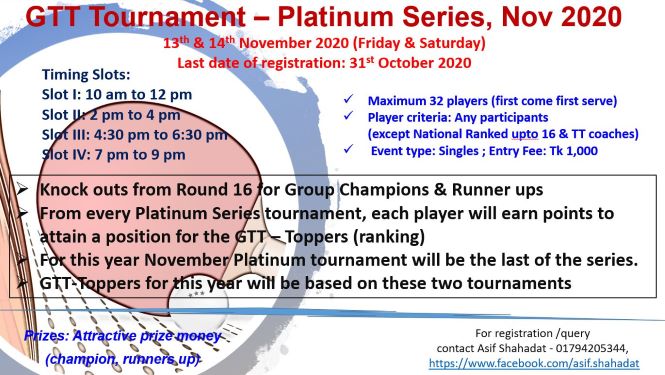 As promised GTT is ready to welcome you all for the Platinum Series, November 2020.
Date: 13th Nov 2020 (Friday) & 14th Nov 2020 (Saturday) 
Last date of registration: 31st October 2020 (first come first served basis) 
Participants: Maximum capacity 32, any participants (except National ranked upto 16 and TT coaches)
Event type: Singles; Event will start with a round robin followed by knock-out. 
Location: GTT premises at Green Road, Dhaka 
Registration fees: Tk 1,000 per person (which includes entry fees, refreshment, tea and cleanliness) 
Match slots: Slot I: 10 am –12 pm; Slot II: 2 pm – 4 pm; Slot III: 4:30 pm – 6:30 pm; Slot IV: 7 pm – 9 pm.
The fixture will be published for your convenience on 7th Nov 2020. 
Prizes: Prize money (champion, runners up).
Rules: 
Maximum 4 players in one group (due to pandemic situation we will strictly follow the slot timings);
Group Champions and Group Runner ups will play knock outs from Round –16.
Attraction:
From every Platinum Series tournament, each player will earn points to attain a position for the GTT – Toppers (ranking); 
These points are being calculated on the basis of best six earned points for each player of last 12 months (Jan – Dec);  But for this year November Platinum tournament will be the last of the Series; GTT-Toppers for this year will be based on these two tournaments;
For details plz contact Asif Shahadat (01794205344) or  https://www.facebook.com/asif.shahadat
Pandemic precautions: 
Presence of others, except the allocated slot players are discouraged; 
Before registration, plz make sure you are absolutely healthy with no symptoms of fever, cough, cold, headache or any other of the kind; 
Players using own transports (cars/bikes/motor bikes) are encouraged to register.
If you are willing to participate please register by providing the information: 
Name: 
FB name (if any) :
Occupation: 
Email and mobile no: 
Last 3 digits of the Bkash no: 
Mode of payment: Bkash: 01819254969 (use send money option)